2004
Studying for his final exams at university, Jamie discovered he needed to wear glasses. After visiting his local optician he was so staggered by the £150 price tag that he set about trying to find out the real cost of making a pair of prescription glasses. He soon discovered that the mark-up was huge, and saw an opportunity for someone to offer a great value product and service at a fraction of the price.
After finding a laboratory to support his idea for providing better value prescription glasses, he set up shop in his parents' front room with friends and family helping out. Word began to spread and within two months of trading, the phone was ringing constantly, and the orders began pouring in. With thousands of enquiries by the end of his summer holidays, what had begun as a sideline had become a real business meeting a real need. Glasses Direct, the first online prescription glasses retailer was born.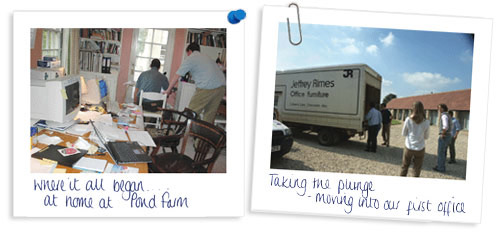 After this phenomenal early success, Glasses Direct out-grew Jamie's parents' Wiltshire home and we decamped to our first office, a converted barn nearby. We also started recruiting our first staff. First on board was finance manager, Deidre Walker (who we nicknamed The Sheriff - because she kept law and order) to look after the pennies; office manager, Amy Kent, (aka Amy Kent); and customer service advisors to see that the rapidly increasing calls were being handled efficiently.
Jamie also put his plans to continue his studies at university on hold and by the end of the year, selling about 50 pairs of glasses per day, there were a handful people sitting around a table at the local pub for the first GD Christmas staff party wondering where it would all lead.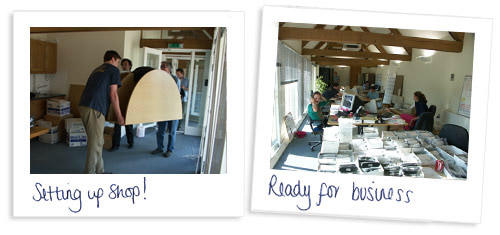 Time to make some noise. We found ourselves a great PR agency to tell the world about Glasses Direct - Brian MacLaurin Associates.
2005
Glasses Direct is officially launched to the press, with some great coverage in The Sunday Times, The Express, The Mirror and The Daily Mail all on the same day.
We appointed two clinical advisors, both ophthalmic surgeons, who helped raise our profile in the optical industry, set pioneering standards for operating on the internet, and help us understand the regulations of selling glasses. We also started recruiting dispensing opticians to support our aim to provide the best optical care for our customers.
By this point, we were busting at the seams. So we upped sticks and moved to a new office next door, with two floors and a lot more room.

All that extra breathing space seemed to have a positive effect on Jamie: he won Shell LiveWIRE Young Entrepreneur of the Year 2005 - our first award!
Orders were increasing rapidly and whilst we were providing a reliable service to customers when they placed their order we wanted to ensure we were keeping an equal control over the quality and delivery of our products at the other end. So in July 2005 we opened our first warehouse and recruited a full-time fulfillment team to run it.
Jamie won Wales and West Country Credit Suisse Entrepreneur of the Year 2005.
We'd long-hoped to offer customers a way of trying on glasses virtually. Well, we'd only gone and done it. After lots of development, CustomEyes was launched.
Jamie and Glasses Direct won two Natwest Startups Awards - Business of the Year 2005 and Young Entrepreneur of the Year 2005. He was getting good at this.
More recruitment as we grew. This time, a small marketing team.
We completed our second investment round.
In our first year, we had turned over in excess of £1m and probably saved the UK public many times that amount on their prescription glasses. The mulled wine was on us!
2006
After meeting the former marketing director of EasyJet, and marketing director of the London 2010 Olympic bid, David Magliano, at a business event, Jamie asked him to join the Glasses Direct board.
With David Magliano on board, we plunged into our first big marketing campaign. The Specspensive campaign saw people dressed as sheep walking around Newcastle city centre handing out flyers and advising the public "Don't get fleeced by Specsavers". Billboards, radio and local events created a lot of noise locally and beyond about the high street rip off.
We also completed a third investment round, and received our first shipment of glasses from China.
Jamie won Isambard Kingdom Brunel Young Entrepreneur of the Year 2006. Yep, still at it.
We started selling our first selection of designer glasses.
Gordon Brown spoke about Glasses Direct in his keynote address speech in Enterprise Week, and Jamie became an Ambassador for UK Enterprise
2007
The New Year saw the total of unique visitors to our website reach 2 million.
Over the Christmas break Jamie had time to reflect on the ambition for the company. It was then that he decided to recommend to the board that Glasses Direct's mission was to become a 'global household brand name' and to do so would require venture-capital funding.
In February, a Miss Montgomery ordered a Cushy frame and by doing so, placed our 100,000th order. Thank you, Miss Montgomery.
Glasses Direct was named a Brand to Watch by the Superbrands Council.
We secured multi-million pound venture investment from Index Ventures and Highland Capital Partners, allowing us to continue to grow and recruit an experienced senior team to lead us to the next stage of development.
The management, finance and marketing teams to a new office in London.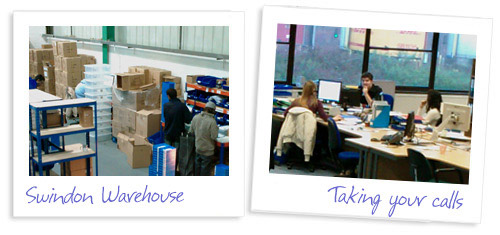 Scaling up the rest of the business was the next logical step, and after much searching for the right office, we found just the ticket in Swindon
We now had a 40+ strong team there, taking orders, providing optical support and sending out prescription glasses every minute of the day. Apart from lunchtimes when they play ping pong.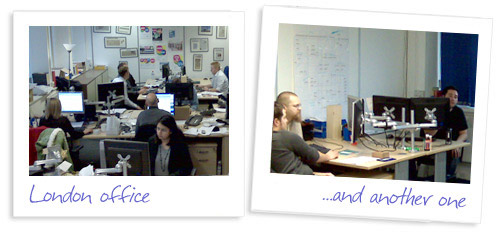 2008
Happy new year indeed! Orders had more than doubled in two months. You loved our January sale, many of you ordering two or three pairs at a time.
2008 saw new branding come into play. The eye symbol above the capitalized web address became a collection of lens shapes. The lens shapes can change colours to reflect different seasons and fashions, and they can move. The branding reflected the shift over time in how people were beginning to wear glasses: much more as a item that had many uses – different occasions, sports, outfits, moods. Our branding now has the flexability to change with the times, just as our customers are discovering new ways to buy and use glasses.
Designer brands on the site now exceeded the range at Specsavers, with over 15 different brands including Ghost, Storm, Conran, and Fila. More on the way!
At GDHQ we have a bigger and better management team, with Kevin Cornils (former MD of match.com and buy.at) joining Jamie to grow the company together.
2009
The company is focused on developing core technologies to improve the buying experience for shoppers. This year will be a big year for 2 of the biggest features on our website: the home trials service, and the virtual mirrors. Watch them grow.
We launch our 2 for 1 offer, extending it to include our designer collection - something that's never been done before. This is received really well and sets us apart from other eyewear retailers.
We decide to hire IncrediBull PR and the first task is a sunglasses press event that takes place in the trendy London club Mahiki. Top fashion and lifestyle journalists from all over come along to see what we have to offer and try out our glasses themed cocktails!
To ensure we can get as many orders out as possible, we bring in our own lab so that we can fit 90% of glasses orders ourselves without having to send them out. Now we can make even more customers happy than we could before. That's what we like.
Our marketing team are keen to try new things to get us out there, so we get involved in the online coupon phenomenon and strike a deal with the largest coupon company in the world - Groupon. It's a huge success!
Keep an eye on this space (pun intended) as we plan more exciting things for this year...