What is our Home Trial?
How does it work?
To make sure you find your perfect style and fit, our Unlimited Free Home Trial service allows you to try on four of our frames before you buy, in the comfort of your own home. Get opinions from friends and family before deciding on the perfect frames which we will then glaze for you according to your prescription and instructions.
When ordering your free home trial you will be asked to supply card details, however this is purely for validation purposes and your card is not charged. If you find you haven't quite made up your mind after you receive your home trial – simply pop them back in the post and once we receive them back you'll be able to take another home trial for free!
Please note: our Home Trial service is currently available to UK customers only.
How do I order my hometrial?
1. Browse our range of designer and GD Collection frames and select up to four pairs (at any one time) by selecting 'Add To Trial' next to each product.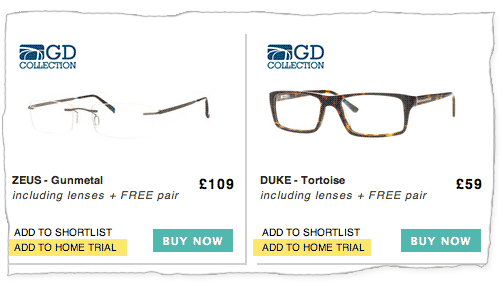 2. You can add frames to your free home trial via the category page.
3. When you have chosen up to four pairs, select 'Order Home Trial'.
4. You will see your Home Trial selection in your basket. A £0 charge will show where you need to provide your card details for validation purposes. When you're ready, select 'click here to submit your order'.
5. We will send you your Home Trial the next working day. These are yours to try on in front of friends and family to find your perfect fit.
6. If you don't find the right pair the first time, you can order another Home Trial from us for free until you find your perfect frames! Simply return your pack to us, and once we've received it we'll send you a confirmation email to let you know, and you'll then be able to order another free home trial.
7. When you've made your decision, place ALL the frames back into the original box with our pre-paid postage label, and send it back to us within seven days from when we despatched your frames to you.
8. Once you've found the frames you want, place your order with us online or call our friendly team of optical experts on 08456 88 20 20.
How do I make sure I find the right frames?
Check that the sides are the right length for you
Check that they feel comfortable on your nose
Get opinions from your friends, family or colleagues on the best styles for you