Other Home Trial questions
Is the Free Home Trial service available to people living outside the
UK

?

Unfortunately not, we are currently only able to offer our Home Trial service if your delivery address is within the UK, however, non-UK residents are still covered by our Returns Policy for any glasses purchased.
How will I know when my Home Trial has been despatched?
You will receive an email as soon as your Home Trial has been dispatched from our warehouse. If you don't receive this, log into your account to check you've provided the correct email address.
I still haven't received my Home Trial, what shall I do?
Firstly log into Your Account and check that we have the correct delivery address. If so, try 'Tracking Your order' to check the status. If it is still unclear, call us on 01793 746601 and we will resolve this as quickly as possible.
One or more of the frames were damaged when I received them, will I be charged?
In the unlikely event of this happening, call our team on 01793 746601 who will be happy to help you with this.
I received the incorrect selection, what shall I do?
In the unlikely event of this happening, call our team on 01793 746601 who will be happy to help you with this.
Due to particular circumstances I haven't sent them back after the seven days, will I be charged?
Call our customer team on 01793 746601 to explain your circumstances and they will do their best to help you.
Can I order my Home Trial over the phone?
No, your Home Trial must be ordered via our website.
How many frames can I choose?
You can choose a maximum of FOUR frames at a time.
I don't know which frames to choose, there are so many! What shall I do?
We understand that with hundreds of frames being compatible for our free Home Trial, choosing just four can be quite tricky. But fear not! We have created some readymade free Home Trial packs containing some of our most popular styles. All you need to do is pick the one that best reflects you.
What if there is a frame in the Home Trial pack that I do not like?
We get you – everyone's got different tastes. We build our packs based on the bestselling frames for each style, but if there is one that doesn't do it for you, all you have to do is click on the frame, remove it from the pack, and replace it with something you prefer.
How much does the Home Trial cost?
Our Home Trial is absolutely free! You will be asked to provide your card details, but this is purely for validation purposes. We do a temporary 'active card check' to verify that your account is valid. You will not be charged, however, your bank may show £1 as reserved for up to 30 days.
Why do I need to provide my card details?
Your card details are purely for validation purposes and so that we can charge you in case you decide to keep any of the frames.
How do I return my Home Trial?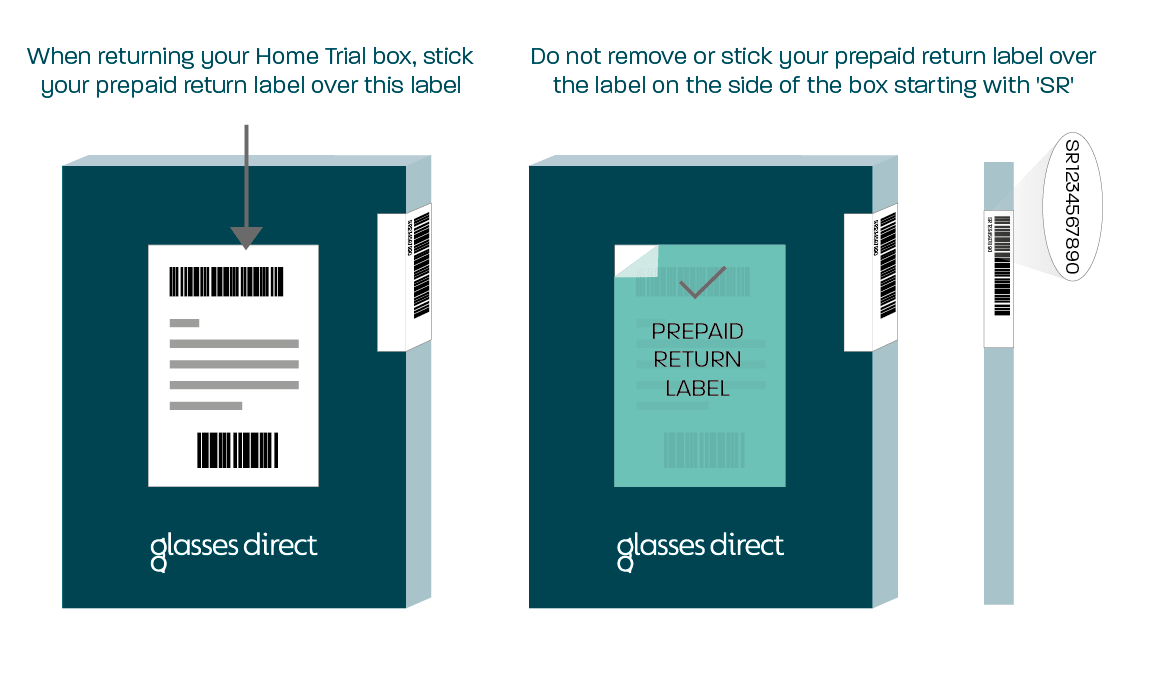 To return your Home Trial, simply follow the instructions on the packet. When applying the free return label to the box, make sure to fully cover the original address label on the front, without covering the barcode on the side that starts with 'SR'. All Home Trials must be returned after 7 days from the day you received it. If you're unable to return your Home Trial, please contact our customer service team on 01793 746601 who will do their best to help you.
I did not find the right pair?
Don't worry if you didn't like any of the frames. Simply return your Home Trial, and once we confirm that we have received it, you can order another Home Trial for free.
Are
ALL

frames available for Home Trial?

Our free Home Trial is currently available for over 400 frames, but we are always trying to add more to the selection. You can easily filter out frames on our website to include only the ones you can try at home for free. Just select the 'Compatible: Home Trial' filter or click here.

For any issues regarding your free Home Trial, please contact our friendly customer service team on 01793 746601, and they will try to help you as best they can.
I ordered a frame after home-trialling it and it doesn't fit the same way! Why is that?
When your actual prescription lenses are inserted, the thickness of the lenses can cause the shape of the frame to change slightly. Read about how you can adjust your frame for a better fit here or contact our opticians for help.