What is your free Home Trial?
Our
free Home Trial service
allows you to try on four frames at home for seven days. It reduces the risk of having to return or exchange a purchase due to it not being the right size or style for you.
Are all frames available for Home Trial?
Our free Home Trial is currently available for over 400 frames, but we are always trying to add more to the selection. You can easily filter out frames on our website to include only the ones you can try at home for free. Just select the 'Compatible: Home Trial' filter, or click here.
You can add frames to your Home Trial via the category page or on the product page itself.
How many frames can I choose?
You can choose a maximum of four frames at a time.
I don't know which frames to choose, there are so many! What shall I do?
Our readymade
Home Trial packs
make picking the right four frames easier by selecting popular styles of certain shapes. Simply choose the pack that best reflects your style. Find out more about this option
here
.
What if there is a frame in the Home Trial pack that I do not like?
All you have to do is click on the frame, remove it from the pack, and replace it with something you prefer.
Is it really free?
Yes, our Home Trial is completely free. You'll be asked to provide your card details, but this is purely for validation purposes. We do a temporary 'active card check' to verify that your account is valid. You will not be charged, however, your bank may show £1 as reserved for up to 30 days.
Why do I need to provide my card details?
Your card details are purely for validation purposes and so that we can charge you in case you decide to keep any of the frames.
When I've found my frames, how do I order them?
When you've selected four frames, select 'ORDER TRIAL'. This will take you to your basket where you will be asked to enter your details. When this is complete, select 'ORDER HOME TRIAL'.
How will I know when my Home Trial has been dispatched?
You will receive an email as soon as your Home Trial has been dispatched from our warehouse. If you don't receive this, log into
your account
to check you've provided the correct email address.
How long does it take to arrive?
We will ship your Home Trial selection within 1-3 working days.
How long do I have to try on my frames?
You have seven days to try on the frames from when you receive them.
Due to particular circumstances, I haven't sent them back after seven days, will I be charged?
Contact
our customer service team to explain your circumstances and they will do their best to help you.
How do I get the best out of my Home Trial?
Try on the frames with different outfits, get a feel for them, and get the opinions of friends, family and colleagues.
I want to order one/ some of the frames that arrived. What shall I do?
If you've found an ideal frame, you can place an order right away. We'll add your prescription and glaze them as per your preference.
What if I did not find the right pair?
If you didn't like any of the frames, simply return your Home Trial. Once we confirm that we have received it, you can order another Home Trial for free.
How do I return my Home Trial?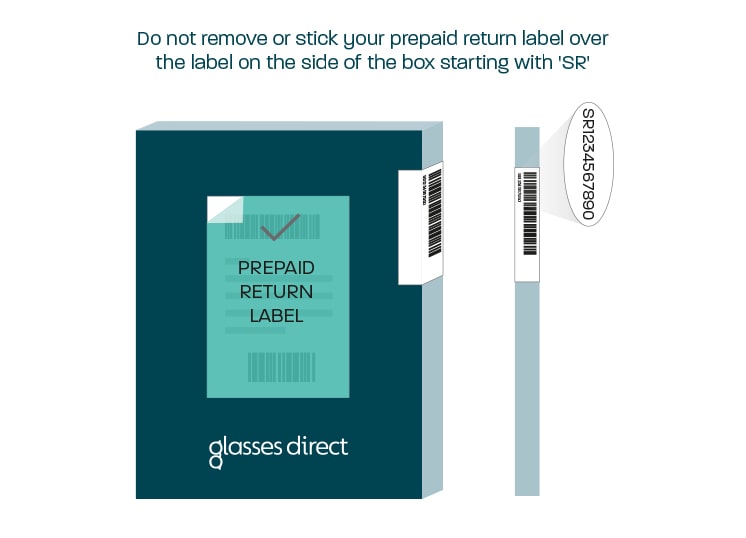 To return your Home Trial, simply follow the instructions on the packet. When applying the free return label to the box, make sure to fully cover the original address label on the front, without covering the barcode, on the side that starts with 'SR'. All Home Trials must be returned after seven days from when you received it.
I still haven't received my Home Trial, what shall I do?
One or more of the frames were damaged when I received them, will I be charged?
In the unlikely event of this happening,
contact
our customer service team who will do their best to help you.
I received the incorrect selection, what shall I do?
In the unlikely event of this happening,
contact
our customer service team who will do their best to help you.
Can I order my Home Trial over the phone?
No, your Home Trial must be ordered via our website.
Is the free Home Trial service available to people living outside the UK?
Unfortunately not. We are currently only able to offer our Home Trial service if your delivery address is within the UK.