Varifocal lenses provide continuous vision for all distances in a single lens, and correct presbyopia. They are often described as having 3 'portions' of vision: long distance at the top of the lens, reading at the bottom, and intermediate in the middle.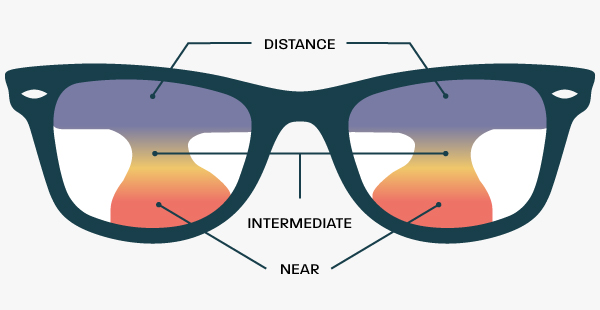 Varifocal lenses are technically called 'Progressive Addition Lenses' (PAL), or Progressive Power Lenses (PPL), but are commonly known as varifocals. The first patent for the varifocal lens was in the early 20th century, though they weren't launched commercially until 1955, when Irving Ripps at Younger Optical developed the 'Younger Seamless Bifocal'. As the name suggests it was based on a bifocal lens, and the design was quite basic.
All varifocal lenses have an element of peripheral distortion, which is due to the way the lenses are designed, and is completely normal. Better lenses manage this distortion better and move it further towards the edges of the lens, thus improving the field of vision and ease of use for wearers.
Basic lens designs can be described as 'off the peg' and one size fits all. This is because these lenses assume a prescription is only spherical. This can make it difficult to adapt to for higher prescriptions, especially for those with a high astigmatism.
Modern 'Freeform' lens designs offer a much better experience. Freeform lenses use computer-aided design and a digital manufacturing process to provide a more customised result. Think of them like an off-the-rack suit that's then been altered to fit by a tailor.
The increase in lens design options can make choosing the best varifocal lens a difficult decision. Most opticians will offer a broad range of varifocal lenses and we currently offer 3 types of varifocal: