For all the modern gentlemen out there working hard to keep their whiskers neat and tidy, we've carefully put together some helpful style inspiration. Look stylish and handsome with the right beard and glasses.
Traditionally associated with professionalism, glasses were once seen as a formal accessory reserved only for clean-shaven businessmen and high-fashion models. However, glasses have evolved to become a must-have addition to your wardrobe and with the rising hipster culture, a fashionable pair of glasses wouldn't be complete without some well-groomed facial hair to match! Discover the trendiest and best glasses for guys with beards.
Just remember, it's important to consider your face shape and above all else, your personal sense of style. Facial hair and glasses come in so many different shapes and styles that you're free to experiment with. Express yourself and let your personality shine through in the designs you choose.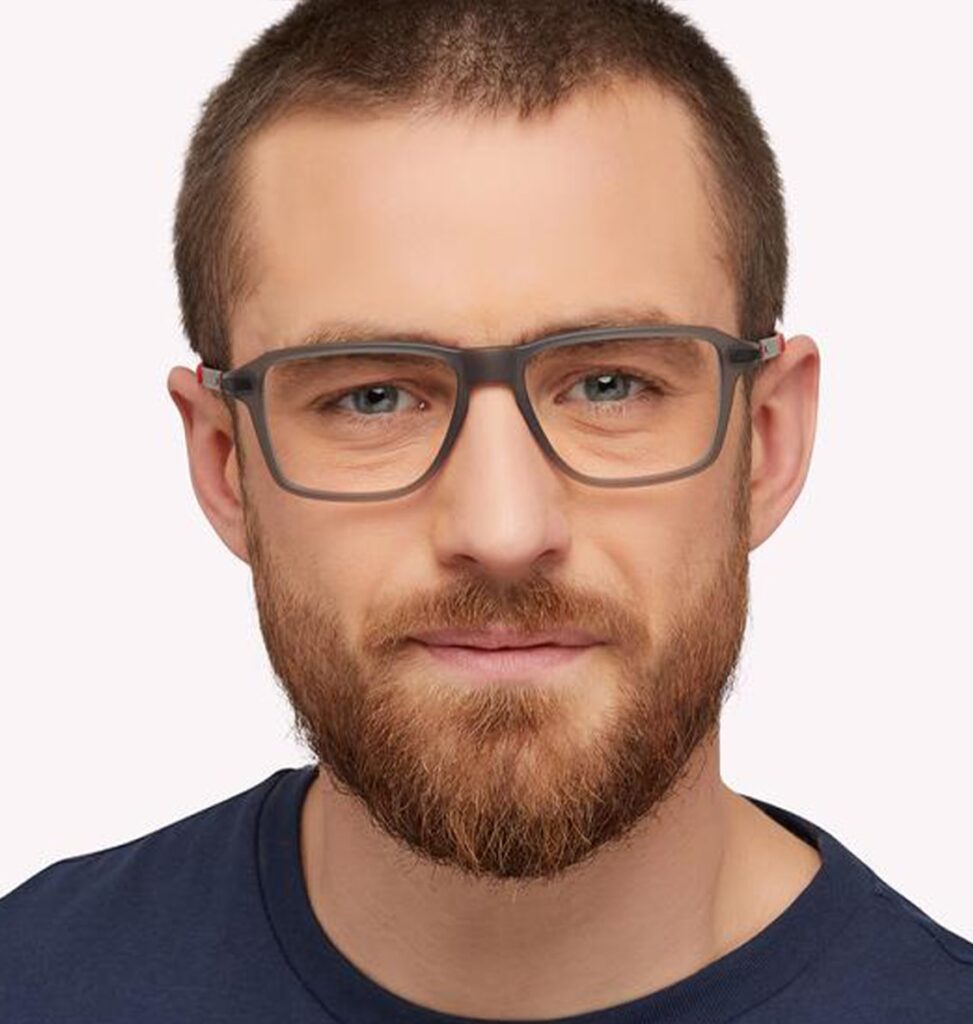 Gents with round faces
Do you have a round face shape? For men that have fuller, rounder features and a circular-shaped chin, we would recommend that you create a more angular look with your choice of beard and glasses.
Best beard styles: If you're not aiming to charm people with your adorable baby face, then we'd suggest that you trim your sideburns and keep your facial hair fuller on the chin. A Van Dyke or tapered beard will complement your round face well and give you a sharper appearance. A boxed beard is another ideal option as it will contrast your round face, providing it with a more chiselled appearance. If you choose any other beard styles, then just make sure the facial hair is thicker at the bottom to accentuate your jawline. A bushy beard will only make your face look rounder than it is! Make sure your neck is also shaved as this will add some much-needed length to your face.
Glasses that look good with your beard: Rectangular glasses are perfect for men with a beard and round face. Any angular frame, like a classic square or Wayfarer design, will add length to your face whilst still emphasising your natural youthfulness. Try to avoid round and oval frames as they are at risk of exaggerating the roundness of your face.
Chaps with square-shaped faces
Are you constantly complimented on your strong jawline? If so, the chances are that you probably have a square face shape. This is a very desirable masculine feature, so you definitely want to make the most of it and show it off!
Best beard style: Keep your beard nicely trimmed and emphasise your naturally chiselled features. A small goatee that is rounder and lengthens at the chin will highlight your jawline perfectly. Designer stubble is also a great choice as it will frame that incredible jawline of yours! Just make sure your beard is shorter at the sides and thicker on the chin.
Glasses that look good with your beard: Soften your angular features with a pair of round or oval glasses. These will contrast your square face shape nicely. Try to go for narrower designs as this will add length to your face. Keep away from square and rectangular glasses as they will make your features look too sharp and boxy.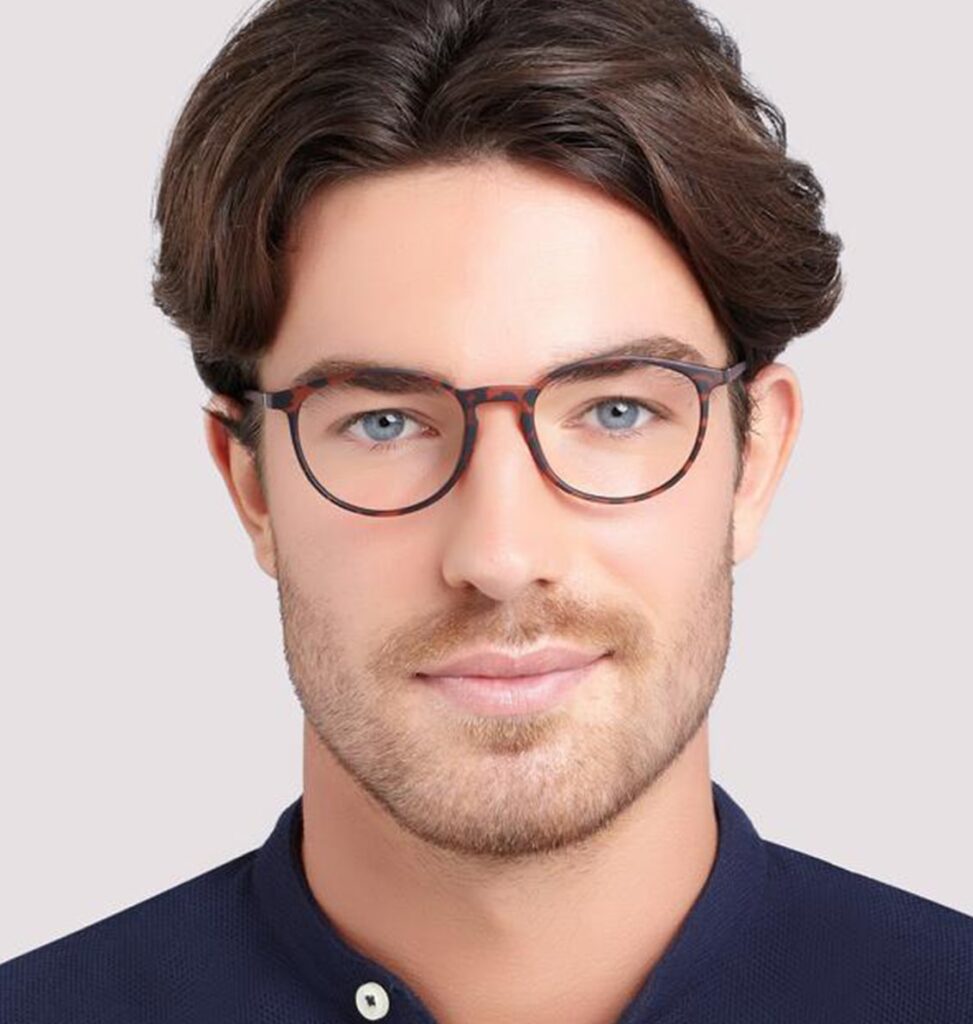 Men with oblong and oval face shapes
If you have a naturally long face, you should consider yourself very lucky! Both oblong and oval are versatile face shapes that suit a variety of different looks. Oblong faces are characterised as being longer than they are wide. The main difference between oblong and oval is that oval faces have slightly wider cheekbones. Compared to round and square face shapes, men with oval or oblong faces tend to have very well-balanced features. Their faces are neither too round nor too chiselled (not that there could ever be such a thing of course!)
Best beard styles: Men with oblong or oval faces suit fuller beards, especially a classic hipster or Viking style. Just make sure the facial hair is thick at the sides to add width to your face. A full moustache will also suit you and take attention away from the length of your face. Having said this, oblong is a very masculine face shape recognised for its length so you shouldn't feel shy to show it off! If you're feeling confident and want to showcase your natural features, then try a thin layer of designer stubble. Depending on the amount of maintenance you want to dedicate yourself to, you'll easily suit most beard styles.
Glasses that look good with your beard: Clubmaster glasses will emphasise your browline and draw the focus to your eyes, taking the attention away from the length of your face. Square glasses, especially designs with decorative details along the temples will make your face appear fuller. Metal Aviator glasses are perfect if you want to balance out the shape of your face. This style of glasses is especially ideal for bald guys with beards who want to achieve a classic Hollywood look. Stay away from small round frames as they will only make your face look longer, instead try fashionable oversized styles.
Guys with diamond and heart-shaped faces
Men with faces that are shaped like a diamond or a heart have very similar features and therefore suit the same sort of shapes and styles. The main difference is that gents with diamond faces have a narrower forehead, whilst those with heart-shaped faces tend to have a rounder temples. Both face shapes are widest at the cheekbones.
Best beard styles: Your facial hair should be trimmed along the sides and in the middle of your chin. You can let it grow as much as you like below the jawline. Try a Garibaldi beard, for example, which is rounded at the bottom and short at the sides with a full moustache. This will balance out your features well.
Glasses that look good with your beard: We suggest a pair of semi-rimless frames. These will give you a suave everyday look and will not over-emphasise your cheekbones. These styles of glasses will blend well with your features. Oval glasses are another great option as they will add a certain softness to your sharper features.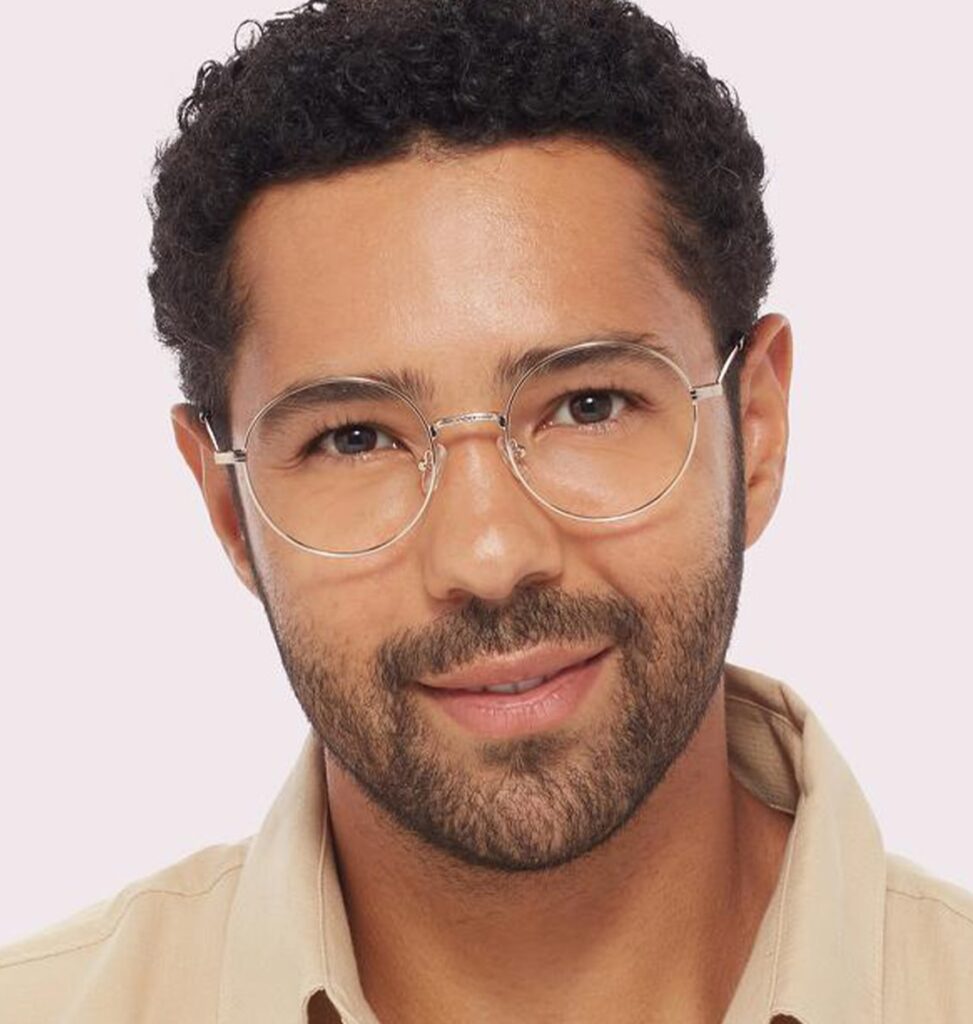 Do you have a beard and glasses? We would love to know more about your style. Share your photos with us on Instagram and inspire other fashionable men with a beard. Simply tag @‌glasses_direct and #myglassesmyway.