Many people believe that winter sunglasses are completely unnecessary. As we prepare for a new season, we typically get our wardrobe ready for the change in weather. Very often we associate sunglasses with a sunny beach in the heat of summer. In fact, many of us think it is weird to wear sunglasses in winter. However, this is a complete misconception because your eyes are still vulnerable to damage from UV rays. Regardless of the time of year, sunglasses are still absolutely essential.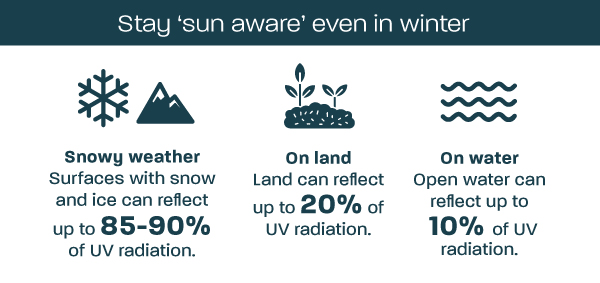 Protect your eyes from UV rays
You're probably already aware that ultraviolet (UV) radiation from the sun can result in damage to the skin. Overexposure to UV rays can also put your eyes at risk of several health conditions. Did you know that during the winter months, the sun is lower in the sky and therefore UV rays are more prominent? Well, it's true. UV protection is still just as important (if not more so) in winter.
All of our sunglasses options provide reliable 100% UV protection and will help keep your eyes safe. We have the choice of either dark, gradient, or polarised tints. There is also the option of Transitions® lenses which seamlessly adapt to the light around you. Different sunglasses are suited to particular activities, so depending on what you use them for most, you can decide what works best for you.
To discover more about the importance of UV protection, watch our Ask the Optician video below:

Lower your risk of future eye diseases
Prolonged exposure to UV rays can increase your chances of developing diseases like age-related macular degeneration (AMD), corneal sunburn (also known as snow blindness), cataracts and skin cancer around the eyelids. Your sunglasses act as a shield against UV rays to keep you protected. Sunglasses can also stop premature wrinkles from developing around your eyes.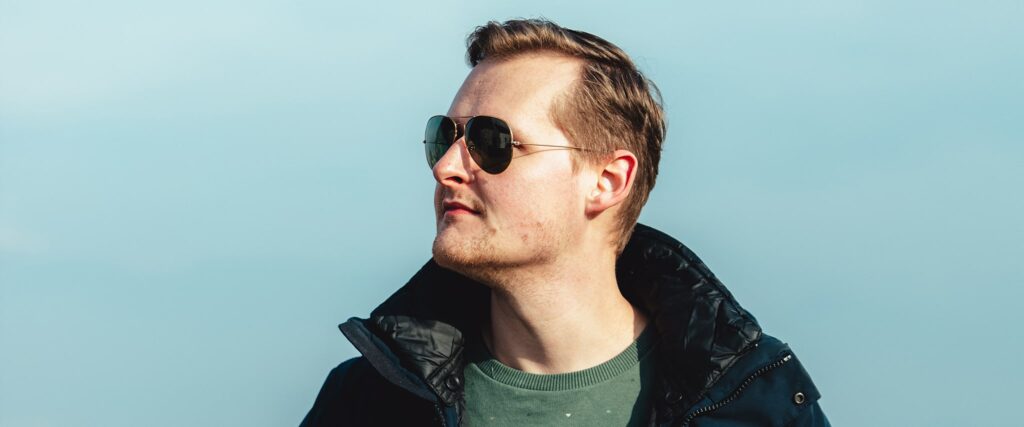 Prevent snow blindness
If you enjoy skiing, snowboarding and other activities during the winter months, you'll definitely want to invest in a quality pair of sunglasses. Snow blindness, which put simply is like sunburn of the eyes, is a short-term but uncomfortable eye condition that is caused by overexposure to UV rays. It commonly happens in winter when the risk of light being reflected off surfaces like wet roads and snow is significantly higher.
You can wear our regular sunglasses in the snow and they will protect you from bright sunlight. However, we would recommend polarised sunglasses as they will keep your eyes safe in these conditions whilst also blocking blinding glare reflected off snowy surfaces.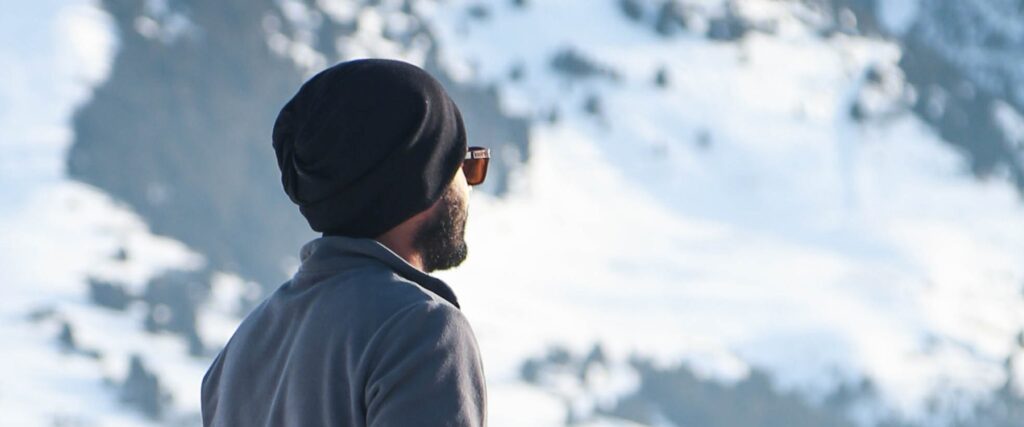 Shield your eyes from the elements
In the winter, the wind is often chillier. As you've probably noticed, when a sharp blast of cold air hits your eyes it results in irritation which causes your eyes to produce tears. The cold air isn't able to hold as much moisture as warm air which means your tears evaporate quickly, leaving your eyes dry and uncomfortable. This can lead to problems with dry eyes. If you wear sunglasses during winter, you can lower the amount of sharp wind that hits your eyes and thus minimise the evaporation of your tears to ensure your eyes maintain natural moisture.
When it's very windy, dust and debris can also get into your eyes and scratch or injure them severely. Sports sunglasses from brands like Oakley and Harrington Sport provide a secure and reliable fit. They are perfect if you face harsh weather conditions as they sit securely on your face and keep your eyes protected from all angles.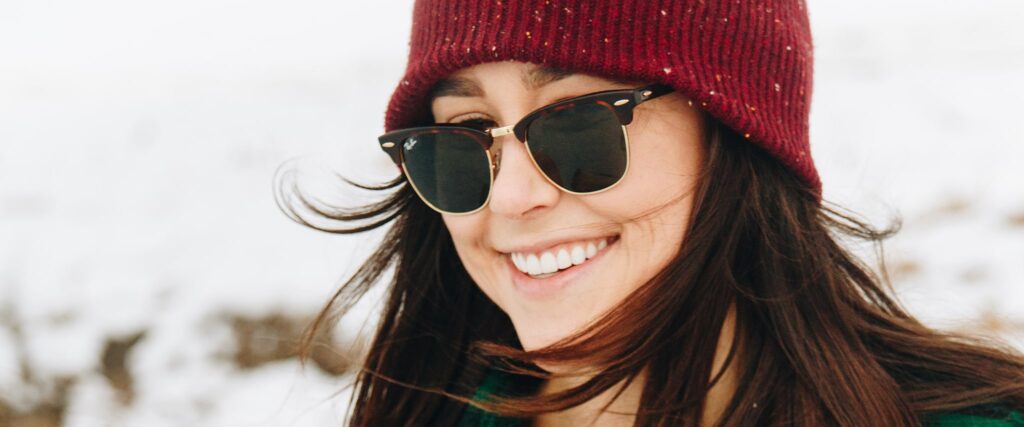 Minimise reflected glare
As mentioned previously, sunlight reflects off of wet and icy surfaces. This reflected light from the sun, referred to as glare can seriously impact your vision and make it difficult for you to see clearly. So, if it happens to be raining or snowing outside, it's best to make sure you have the right pair of sunglasses handy.
Polarised sunglasses will protect you from the winter sun. They are particularly ideal for outdoor activities and snow sports. It is essential to make sure you have suitable anti-glare eyewear.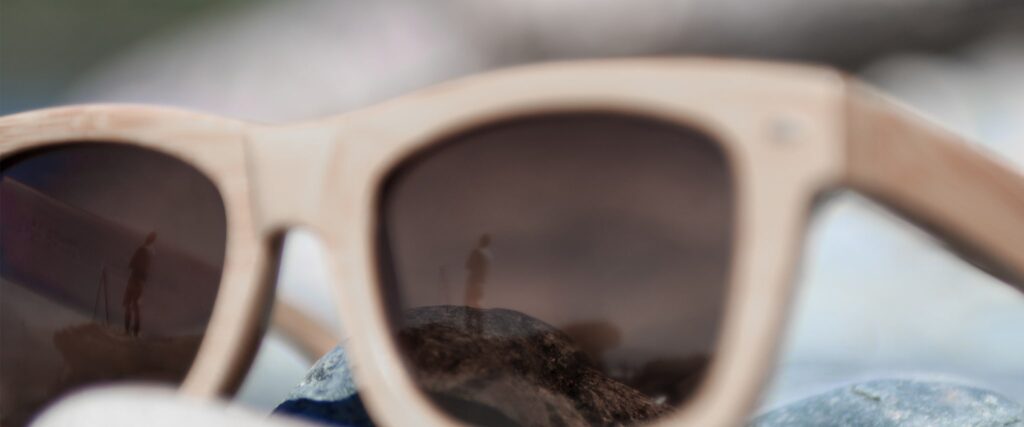 Stay safe whilst driving
Sunglasses can also help you avoid distraction from blinding glare when you are driving during the daytime. Safeguard yourself and others on the road. Our best recommendation would be Transitions® Drivewear® lenses which are uniquely optimised for driving. They function in all conditions from overcast weather to bright sunlight.
Gradient tints are a suitable alternative for driving during the day as they are dark at the top and fade to a clearer shade. The top section shields your eyes from sunlight overhead while the lower part makes it easier for you to see and navigate your dashboard.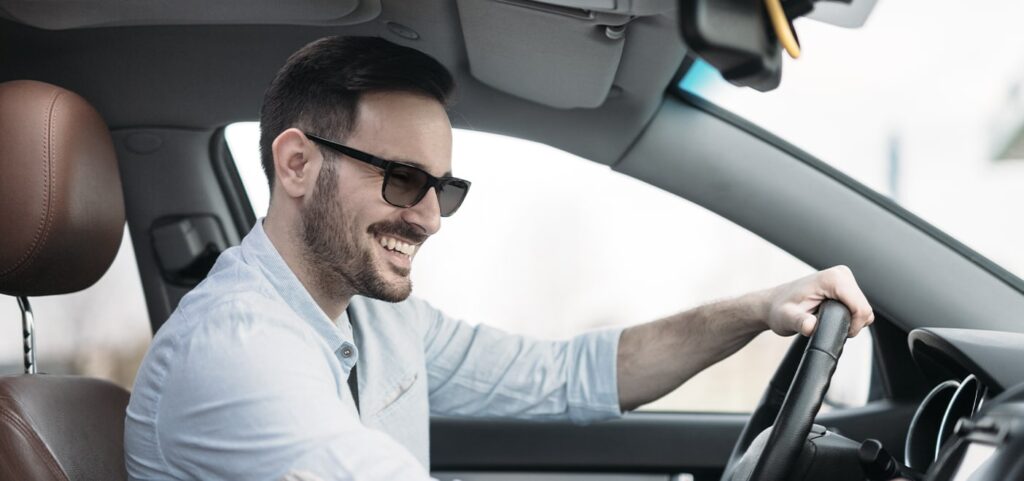 Reduce eye strain and headaches
Our pupils narrow in bright conditions in order to minimise the amount of light that reaches the retina at the back of the eye. However, when bright light is suddenly reflected off of surfaces like snow, our pupils don't have enough time to narrow to reduce the amount of light that gets in and so this causes us to squint our eyes which inevitably leads to eye strain.
We recommend our light intelligent photochromic lenses which automatically adjust to changing light conditions. They transform from a pair of fully clear glasses indoors to a pair of convenient sunglasses when you move outside. It's the perfect solution in winter as you won't need to bring both sunglasses and glasses with you everywhere. The lenses seamlessly adapt to your surroundings so you're protected in both indoor and outdoor environments.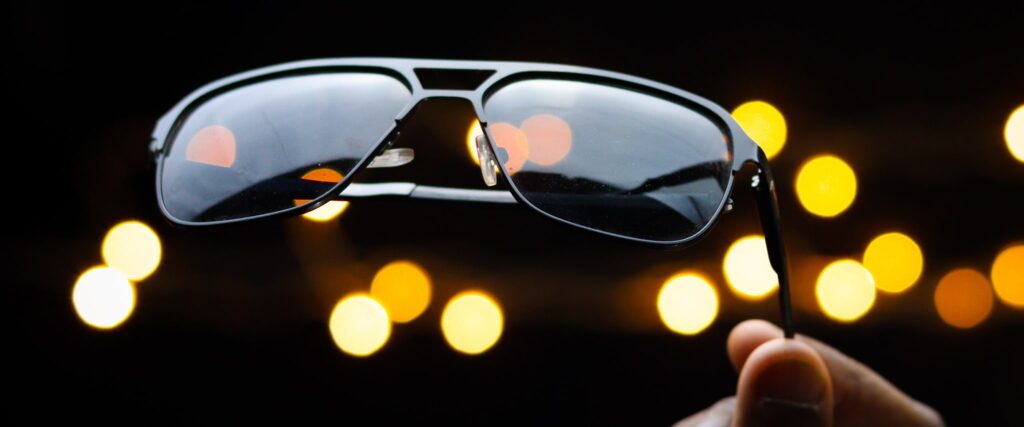 Invest in anti-reflective glasses lenses
If you're not keen on wearing sunglasses in winter, try one of our affordable lens packages. Choose either our Gold, Platinum, or Diamond packages to benefit from an anti-reflective and anti-UV coating. This means you will have a reliable pair of glasses that can keep you protected from harmful UVA/B rays and eliminate problematic reflections and glare. This is especially useful for driving at night as the lenses will help block reflected glare from nearby car headlights.

What are the best sunglasses for winter sun?
We have carefully handpicked a selection of trendsetting frames that make excellent winter sunglasses.
Men's winter sports sunglasses
These Oakley sunglasses are lightweight and have adjustable temples for a bespoke fit. The nose pads and ear socks ensure a secure and comfortable grip when you are on the move. Ideal for winter sports and outdoor activities, they are most suited to individuals who like to stay active in the colder months. Pair them with polarised lenses which will protect you from blinding glare. This will prevent eye strain and thus help you to feel less fatigued so you can see more clearly and focus on the activity at hand. Optimise your physical performance and protect your vision in the cold and wet weather.
Men's best sunglasses for winter driving
Aviator sunglasses are ideal for driving because the lenses tend to be fairly large for you to see clearly out of and if you go for a traditional metal frame, the thin structure is less likely to disturb your peripheral vision. Apply Transitions® Drivewear® lenses which are designed to keep you safe on the road. They combine light intelligent technology with polarisation to reduce reflective glare in all weather conditions.
Everyday winter sunglasses for men
Pick any of our stylish frames to wear in winter. Add Transitions® Signature® GEN8™ lenses which transform from fully clear glasses indoors to a pair of reliable sunglasses outside. They seamlessly adapt to changing light, keeping you protected from UV rays and minimising glare to reduce uncomfortable eye strain. These lenses are ideal if you are constantly on the move, especially when you go in and out of shops or if you work in an office and head outside regularly. They also come in a choice of seven trendy style colours so you can pick one to suit you!
Women's sporty winter sunglasses
These stylish sunglasses from Puma are ideal for women who enjoy staying active. The spacious keyhole bridge and rubber padding along the temples ensure a secure and comfortable fit during exercise. Meanwhile, the classic design of the frame will give you a fashionable look so you can wear these sunglasses wherever you go. For all the reasons mentioned above and more, polarised lenses are ideal for outdoor sports and will pair well with this frame.
Women's winter sunglasses for driving
We have selected these Ray-Ban winter sunglasses as being ideal for driving. The large semi-rimless lenses allow you to see the road ahead clearly. Made of sturdy yet lightweight metal, the temples are slimline which prevents distraction and allows you to observe the road from all angles. Choose Transitions® Drivewear® lenses for an optimal driving experience. Gradient tints are also an excellent option for daytime driving in winter as they will protect you from bright sunlight overhead whilst still allowing you to see the dashboard clearly.
Women's best winter sunglasses for daily wear
There are so many different shapes and styles of sunglasses which are ideal for winter wear. It's really a case of picking a style to suit you! Stick to traditional prescription sunglasses which will protect you from the winter sun when you're outside or try our convenient photochromic lenses which adapt to the light around you whether you're inside or out. We love Primrose from our charitable Pink Ribbon range. This elegant cat-eye frame in tortoiseshell is really trendy, plus for every frame sold, £2 is donated to the Pink Ribbon Foundation. So, you can smile knowing you're contributing to a good cause!